Pocket Bike -
General information


Mix ratio

| | | | | | | | |
| --- | --- | --- | --- | --- | --- | --- | --- |
| mixture | 1:20 |  1:25 |  1:30 |  1:35 |  1:40 |  1:45 |  1:50 |
| gasoline | oil in ml | oil in ml | oil in ml | oil in ml | oil in ml | oil in ml | oil in ml |
| 1,0 litres | 50 | 40 | 33 | 29 | 25 | 22 | 20 |
| 1,5 litres | 76 | 60 | 50 | 43 | 38 | 33 | 30 |
| 2,0 litres | 100 | 80 | 67 | 57 | 50 | 44 | 40 |
| 2,5 litres | 126 | 100 | 83 | 71 | 63 | 56 | 50 |
| 3,0 litres | 150 | 120 | 100 | 86 | 75 | 67 | 60 |
| 3,5 litres | 176 | 140 | 117 | 100 | 88 | 78 | 70 |
| 4,0 litres | 200 | 160 | 133 | 114 | 100 | 89 | 80 |
| 4,5 litres | 226 | 180 | 150 | 129 | 113 | 100 | 90 |
| 5,0 litres | 250 | 200 | 167 | 143 | 125 | 111 | 100 |
| 5,5 litres | 276 | 220 | 183 | 157 | 138 | 122 | 110 |
| 6,0 litres | 300 | 240 | 200 | 171 | 150 | 133 | 120 |
| 6,5 litres | 326 | 260 | 217 | 186 | 163 | 144 | 130 |
| 7,0 litres | 350 | 280 | 233 | 200 | 175 | 156 | 140 |
| 7,5 litres | 376 | 300 | 250 | 214 | 188 | 167 | 150 |
| 8,0 litres | 400 | 320 | 267 | 229 | 200 | 178 | 160 |
| 8,5 litres | 426 | 340 | 283 | 243 | 213 | 189 | 170 |
| 9,0 litres | 450 | 360 | 300 | 257 | 225 | 200 | 180 |
| 9,5 litres | 476 | 380 | 317 | 271 | 238 | 211 | 190 |
| 10,0 litres | 500 | 400 | 333 | 286 | 250 | 222 | 200 |
How can I tell what kind of engine is in my pocketbike?
Most pocketbikes use 2-stroke engines. There are two different types of 2-stroke engines in use on pocketbikes.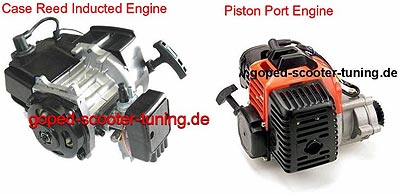 Case Reed Inducted:
These engines are used on '47cc' pocketbikes. The carburetor connects to the crankcase. These engines generally have a 40mm cylinder (for an actual engine size of 40.2cc) or a 44mm cylinder (for an actual engine size of 48.7cc).
Piston Port:
These engines are used mainly on the larger '49cc' midbikes & superbikes (cateye, X1, X2, 380x, R1, X7, etc), Gas Scooter (Mach1 and Silver Scooter). Here, the carburetor connects to the cylinder.
How do I install the Rocket Key on a pocketbike engine?
Note: if you are installing a rockit key in a 47cc pocketbike, please refer to the following illustration:
(For 49cc bikes the direction of rotation is the opposite)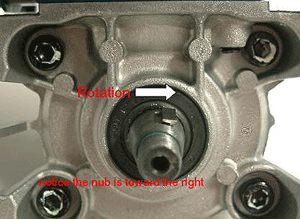 Correct installation of a rocket key will always be with the offset pointing in the direction of flywheel rotation.
What spark Plug will work on my pocketbike engine?
On the stock case 47/49cc case reed inducted engine and the piston port Engine works the same NGK BM7A. When you mount a performance Cylinder on this Engines you can mount the NGK CR7HS CMR7H and the best Spark Plug NGK CR7HIX Iridium.